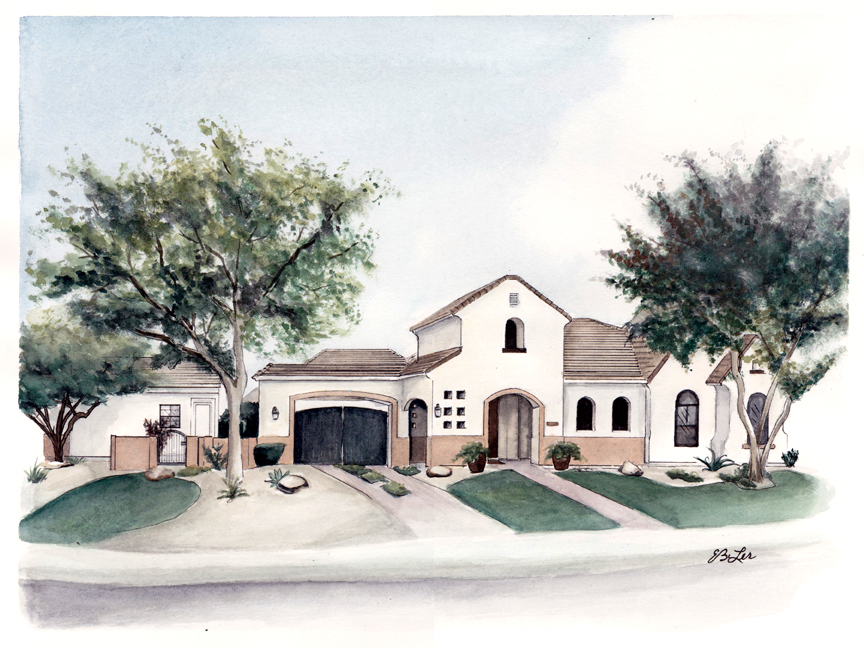 A Custom Home Portrait in the Southwest Suburbs of Phoenix
In December, I had the pleasure of creating a custom home portrait of a home in the southwest suburbs of Phoenix as a surprise Christmas gift for the client's wife. The customer requested that this particular artwork be created in watercolor, pen and ink.
You might feel a bit overwhelmed or uncertain about what might be involved to having a custom artwork created.  There's absolutely nothing to be concerned with because it is of the utmost importance to me that you are pleased with the results. Here's a sneak peak into my creative process:
First, I take photos of the home at several different angles or else you can provide several options. If you provide the photos, they must either be your own or have permission from the photographer to use.
We work together to select the best photo to use as reference.
Next, I'm ready to begin the pencil drawing of the home. I typically choose a stiff bristol paper for pen and ink portraits, or a heavy weight hot-press watercolor paper for watercolor portraits.
I draw in various thicknesses of pen and ink over top of the pencil drawings. I select the pen weights based on my interpretations of line and shading.
Optionally, I then paint over the inked drawing in watercolor.
Then I sign my name and Voila! Finished!
Each original artwork is packaged in a Clear Bag along with a hard backing to prevent bending, and included is a signed Certificate of Authenticity.  The client is kept involved throughout the process, including their approval of the selected reference photo, an update once the pen and ink is completed and, when applicable, previewing the watercolor prior to artwork delivery.
Contact me if you are interested in finding out more about having your own unique, custom home portrait created.