HeART of Goodyear Public Art Project
Read on for details about my personal design process for this project. "My" heart is located at
Loma Linda Park in Goodyear
. (Completed Nov, 2020)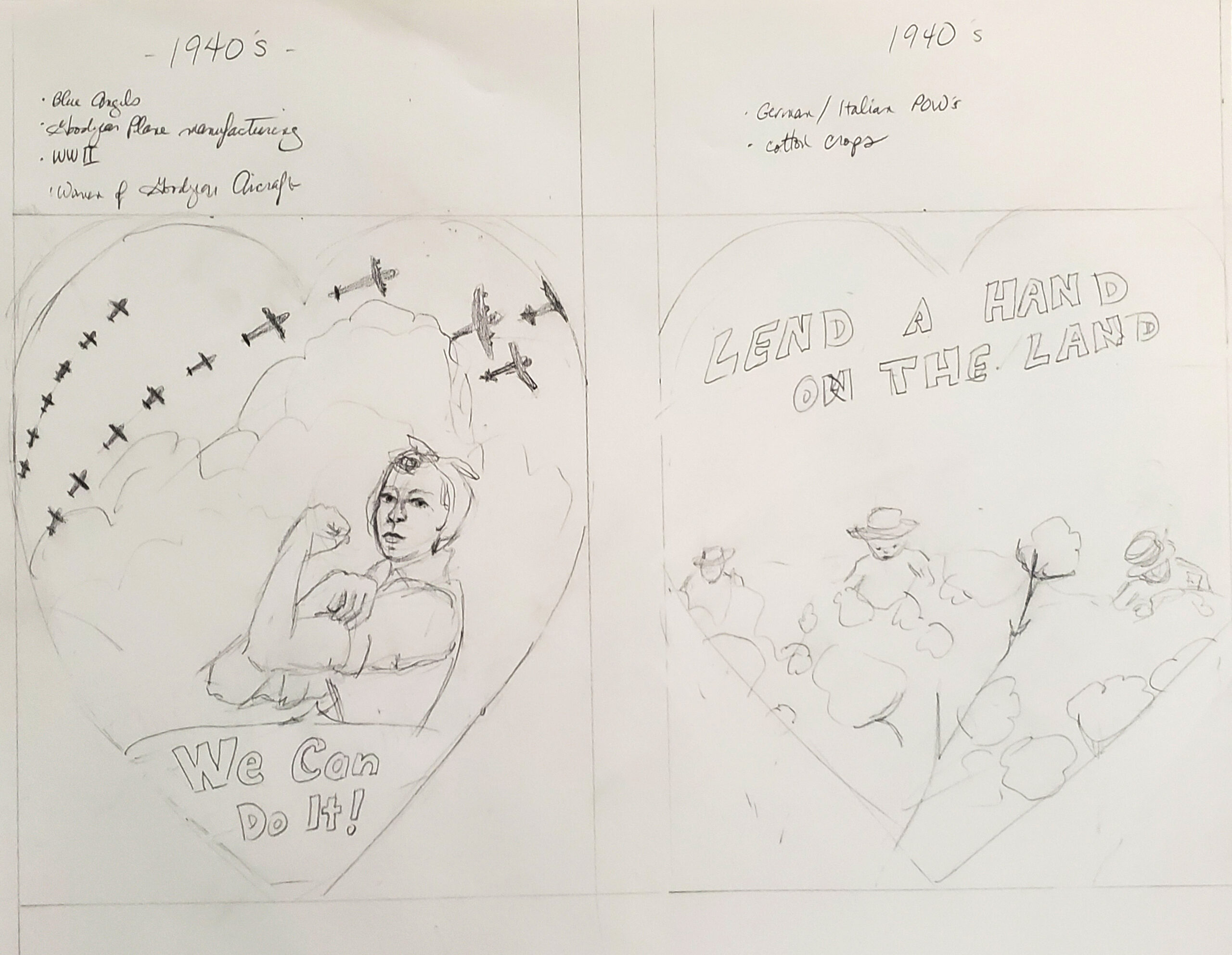 1 | Research and Application
The call for artists for the HeART of Goodyear project asked artists to submit design concepts and application for specific decade(s). I was interested and started researching Goodyear's history. I was particularly intrigued by the decade of the 1940s, both because of the rich history of the 1940s but also to learn about Goodyear's involvement in the war during World War II. I discovered that local women worked at Goodyear Aircraft to supply flight decks for the Navy to help with the war effort. I also learned of German and Italian prisoner of war camps in Goodyear and the POWs were brought in to work the cotton fields during the war.
I immediately had an idea for a concept in the style of WWII war posters that honored these local Rosie the Riveters and the war planes they built. I also felt it was important to highlight Goodyear's beginnings with cotton fields while acknowledging the POWs who helped on the land during the war.
2 | Concept Refinement
I was so pleased to be selected for the 1940's themed heart! The next step in the process involved refining my initial concept, and also, importantly to see about copyright related to war posters. I was pleased to discover that World War II Posters are within the public domain which means they are not protected by copyright. The heart is 3 dimensional, so the 2 designs are for the "front" and "back" of the heart. 
These 2 posters influenced my primary design concept, combining a strong woman with aircraft amidst our bright blue Arizona skies: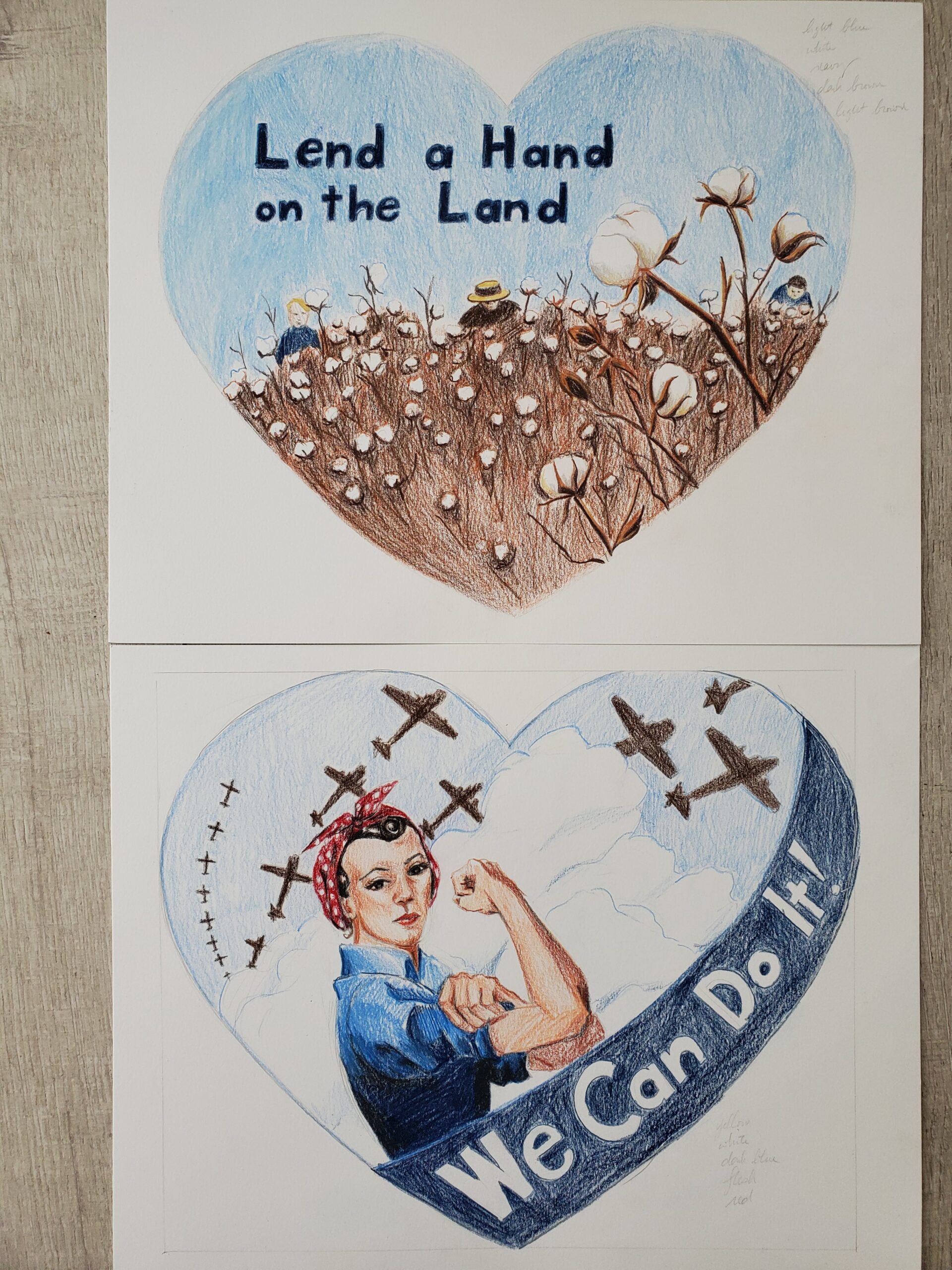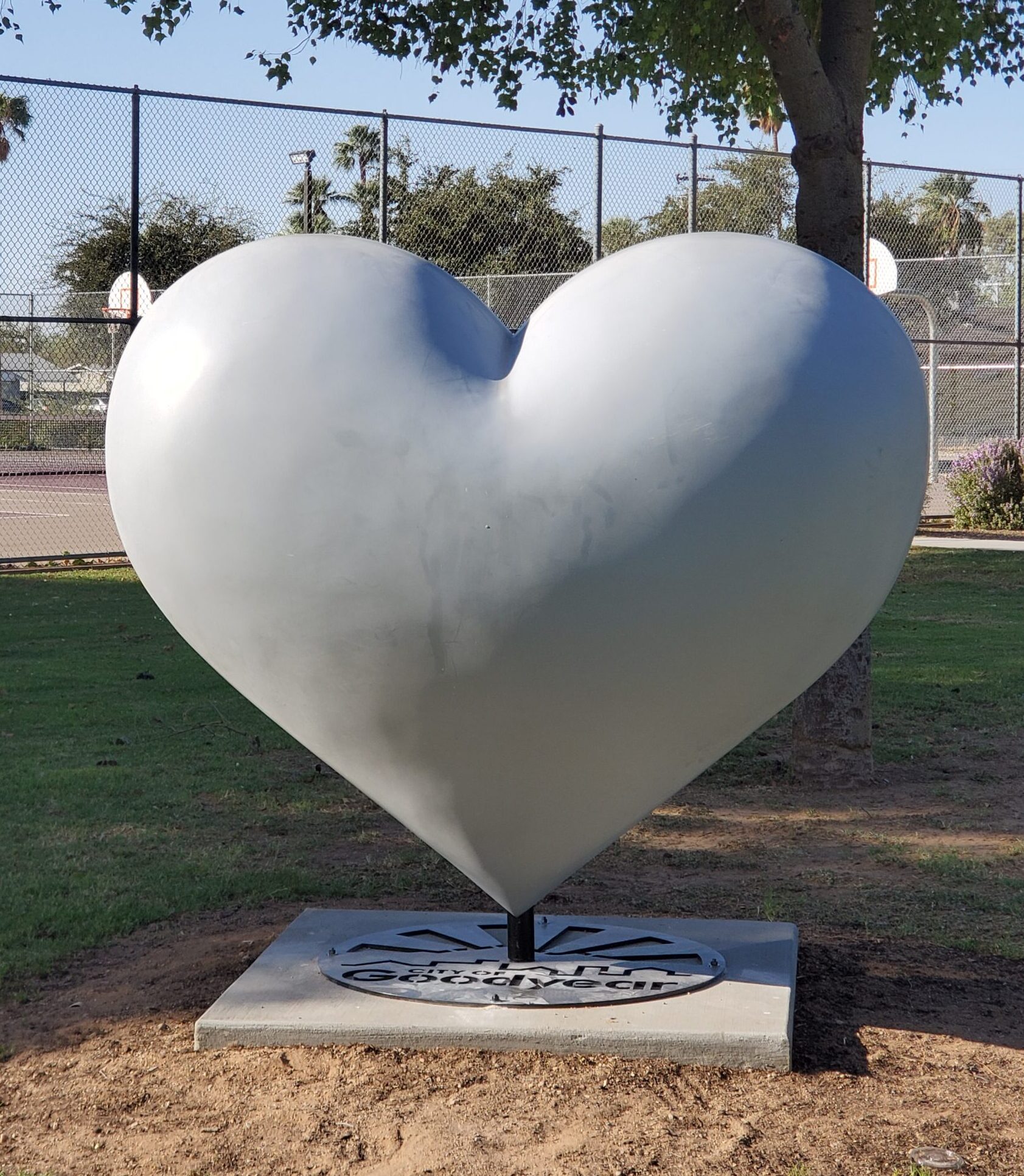 3 | Drawing & Preparation
The first step was drawing out the artwork on the heart. My kids helped me in creating a grid for Rosie's face so I could make sure her proportions were correct but the rest of it I winged.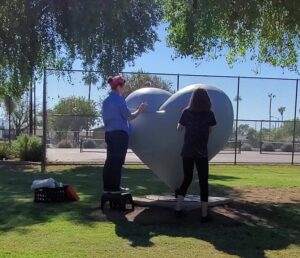 I don't typically work in acrylic paint, nor do I tend to paint on large 3 dimensional hearts so I was excited but also a little intimidated. Thank you, thank you to my fellow artists who helped me in selecting mural paint and sealants. Their help was invaluable! I ended up purchasing white and sky blue exterior latex paint to do the largest portions and mural paint for three other colors. I kept a limited color palette to further mimic the style of WWII posters, using primarily 5 colors. 
cli4 | Painting
Once the drawing was in place, I was ready to paint! Here is the schedule of painting and what was completed each day. If you would like to see timelapse videos for each specific day, check them out on my instagram at https://www.instagram.com/estherbeler/.
Day 1, 2 hours: completed the drawing and painted the sky.
Day 2, 2 hours: clouds, airplanes and started Rosie
Day 3, 2 hours: back side – cotton fields and large cotton bolls
Day 4, 4 hours: Rosie
Day 5, 5 hours: Text and touch ups, front and back
Day 6, 2 hours: Final touch ups, spray varnish to protect and seal
…. and done!
Check out the final results pictured below, or better yet, come visit it in person at Loma Linda Park in Goodyear. Take a tour of all 10 unique heart artworks around the city – click here for a list of artists and heart locations.