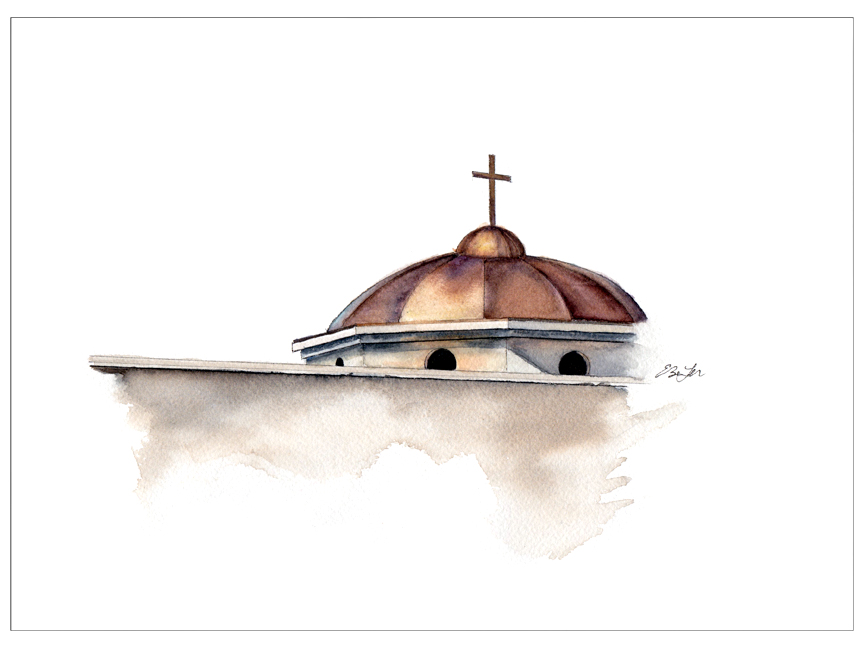 Heading east on Monroe Street in downtown Phoenix, I had just walked past St Mary's Roman Catholic Basilica [yup, that's on my list] when I spotted a copper dome peaking out over a wall. I must have walked every street at and around the dome trying to spot where the entrance was, what the rest of the building looked like, and of course taking a pic along the way. Finally I found the entrance to the Diocese of Phoenix through the park by the Basilica but the entrance didn't hold quite the same impact as spotting that copper dome.
I sat on this photo for a bit, considering how to best portray that simple but striking image. I love white space so I brainstormed and played a little bit to decide how I might make it work.
First, I drew out the image, as usual. My instincts told me this was going to go in one direction (success) or another (failure). [True story: Not everything an artist envisions comes out as hoped.] Next I thought up ideas on how to make an impact with color while taking advantage of the white space. I chose to "sketch it out" in watercolor first as a trial run. Doing a rough watercolor sketch is different for me because I'm ridiculously impatient and typically just dive right in.
Focusing primarily on the dome allowed me to see the purples and blues captured in the copper reflections, challenged me to work loosely on the wall and enjoy the beautiful simplicity of the structure.
Enjoy!
---
Originals and prints from the architecture series are for sale at https://www.etsy.com/shop/EBeLerFineArt. If there's something you're interested in but don't see at the shop, please contact me for more information.