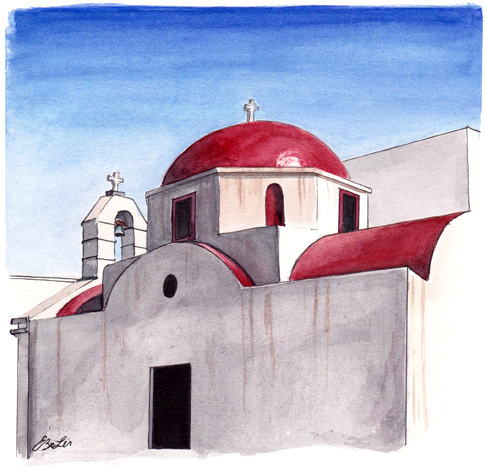 "It's the Start that Stops most people" -Steve Werner
I've been keeping super busy the last few months. I've been privileged to work on illustrations for a local Wizard of Oz ballet production, a small bistro, home commissions, designs for several new businesses, among several other things. I'm grateful for each of these opportunities but one consequence has been that I haven't been able to put my usual time into personal artistic endeavors.
Then, a not-so-funny thing happened.  The longer I stayed away from the intricate architecture drawings I've enjoyed so much, the harder it was to start back up. Not even just that, but I found it harder to find potential in my photos, harder to motivate myself to try something new, overwhelmed to consider the time and patience it will take for the detail I knew I'd want to achieve.
After procrastinating for far too long, I decided to return to a picture I did nearly 10 years ago and try it again. The red-domed church residing on the island of Mykonos is a striking building but not overly complex. It turned out to be the perfect re-start.